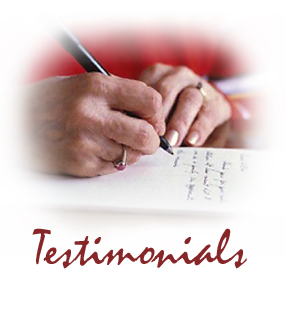 "Valerie, I got lucky! I found you!! Seriously, going through a lawsuit over our commercial project by disgruntled partners nearly bankrupted my firm. The stress was enormous. Thanks for being there for me, and for us."
–Greg J.
La Mesa, CA
---
"Valerie you were right on – experience does pay. You were worth every penny. Thanks so much for getting us through the trial over ownership of our office building."
–James and Vicky W.
Del Mar, CA
---
"Thank you Valerie. You saved me and got my broker's License reinstated. The fraudulent seller was found the guilty party and all is back on course. Those were dark days when no one else said I'd have a chance."
–Wayne T.,
Chula Vista, CA
---
"Valerie, I cannot thank you enough – the lawsuit was resolved not only to our satisfaction, but quickly and competently."
–Burt S., CEO,
Dana Point, CA
---
"Valerie as you know our company was faced with a huge crisis, dealing with several lawsuits and threats of more.After we engaged your services, you were able to bring these matters to a swift conclusion, saving us countless dollars in the process. In addition, the settlements reached with each of the few left standing was beyond what we expected. I will not hesitate to use your services in the future and will refer you to anyone who has business problems."
–George C., President,
Rancho Bernardo, CA
---
"I am so glad I hired you. I cannot think of a better Real Estate attorney to defend me. I will gladly refer you as much business as I can. God bless."
–Cathy H.,
Escondido, CA
---
"You came highly recommended and I can see why. Thank you for all you did for us. I am glad the ordeal is finally over."
–Nick R.,
San Diego, CA
---
"Valerie, I was very nervous about the lawsuit and you calmed me down. You took a potentially dangerous situation and made it seem easy and actually go away… I enjoyed our office meetings and working with your staff. I will never forget you and I will never hesitate to use you in the future."
–Raul F.,
Spring Valley, CA
---
Business Attorney Valerie Kramer
understands that investing some time in getting your business contracts in order, handling common legal transactions, or negotiating a lease should be cost-effective.
Valerie Kramer is also a Real Estate Attorney and helps Property Owners, Buyers & Sellers, Real Estate Brokers, Commercial Tenants and others involved in everyday real estate transactions and disputes. Valeries's clients get maximum value for every penny spent, without padded hours for unnecessary "additional services."
Call me personally – (619) 259-5030
– Let's talk through your issue or opportunity.
We Are Your San Diego Business Attorneys…
We are proud to serve San Diego and the San Diego County Area.