San Diego Construction Disputes & Litigation Attorney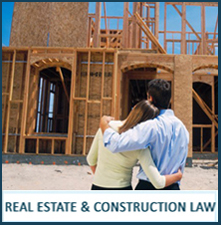 Construction disputes can be very costly to everyone involved, including contractors, subcontractors, and building owners. At the Law Office of Valerie Kramer in San Diego, California, we understand that our construction clients need practical, cost-effective solutions to their legal problems. Contractors and other building professionals do not want their project to be bogged down by delays caused by lengthy litigation.
Valerie Kramer has extensive experience representing plaintiffs and defendants in a wide variety of construction claims, including:
Disputes between general contractors and clients
Disputes between contractors and subcontractors
Recording mechanics liens
Expunging mechanics liens
Homeowner association disputes
Issues such as cracked foundations, water damage, and mold
Save Time, Money & Stress: Work toward a Resolution
It is in your best interest to resolve your case at an early stage – and this is our first approach. Having legal representation is often sufficient to have the other side sit up, pay attention and decide to work out areas of conflict. Most often, we are able to convey your case in such a manner as to work out an amicable situation out of court. However, if it is necessary to litigate a construction law dispute to the end, Valerie Kramer will do that. We have a high rate of success in trials and appeals.
---
Business Attorney Valerie Kramer
understands that investing some time in getting your business contracts in order, handling common legal transactions, or negotiating a lease should be cost-effective.
Valerie Kramer is also a Real Estate Attorney and helps Property Owners, Buyers & Sellers, Real Estate Brokers, Commercial Tenants and others involved in everyday real estate transactions and disputes. Valeries's clients get maximum value for every penny spent, without padded hours for unnecessary "additional services."
Call me personally – (619) 259-5030
– Let's talk through your issue or opportunity.
We Are Your San Diego Business Attorneys…
We are proud to serve San Diego and the San Diego County Area.