Making Sense of Claims and Defenses in Construction Litigation
Troubled construction projects always have a way of spreading the misery around to all parties involved. Most typically, the disputes are over performance or payment issues between the primary parties; but so often ropes in less-hands-on parties fairly quickly including claims for defense or indemnification against third parties such as material suppliers, bonding companies and insurance companies.
If you as an individual, or your company, is a party to construction litigation, you stand to benefit from the advice of experienced Real Estate and Trial Attorneys.
Oftentimes, having competent legal counsel means that you can meet the demands of the original lawsuit and possibly bring about a fast, cost-effective solution. If that isn't possible, it is comforting to know that Real Estate Attorney Valerie Kramer is experienced and qualified to litigate in court for the best possible outcome for your case.
Resolving Disputes in Residential and Commercial Construction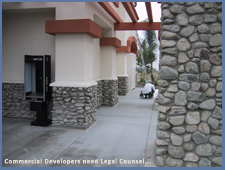 Contact Real Estate Attorney Valerie Kramer for competent legal service and practical litigation solutions for construction disputes in San Diego and all of Southern California.
Although the right approach to any case depends on the specific facts and relationships involved, our general strategy from one situation to another covers three essential litigation needs:
Preparing your initial claim or defense based on a thorough understanding of the facts, the law, and your short-term and long-term objectives
Identifying all parties who might be liable to you on the original claim, or on any cross-claims or counterclaims
Seeking the maximum benefit of all applicable insurance coverages for defense, indemnification, business interruption or casualty loss, depending on the facts of your specific case
Whether your civil action involves contract, warranty, or tort claims — or any combination of these — you can depend on Valerie Kramer to develop and execute a litigation strategy that best meets your needs. Our clients range from subcontractors, small builders, property owners, developers, investors, purchasers and homeowner associations.
For additional information about the benefits of working with an experienced and accomplished trial lawyer in California construction disputes, contact the Law Office of Valerie Kramer in San Diego.
---
Business Attorney Valerie Kramer
understands that investing some time in getting your business contracts in order, handling common legal transactions, or negotiating a lease should be cost-effective.
Valerie Kramer is also a Real Estate Attorney and helps Property Owners, Buyers & Sellers, Real Estate Brokers, Commercial Tenants and others involved in everyday real estate transactions and disputes. Valeries's clients get maximum value for every penny spent, without padded hours for unnecessary "additional services."
Call me personally – (619) 259-5030
– Let's talk through your issue or opportunity.
We Are Your San Diego Business Attorneys…
We are proud to serve San Diego and the San Diego County Area.