Website Privacy Policy Attorney – Internet Privacy Lawyer
Website "Privacy Policies" primarily regulate how a website collects any personal information, or habits, or use patterns associated to its users and how such information that is collects will be used.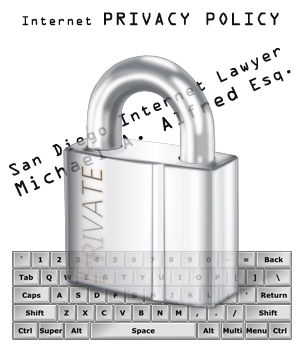 Your website's privacy policy is one of the most important legal protections you have on your website. It doesn't matter if your website is little more than an electronic version of a Yellow Pages ad. Nor do you get a "pass" if your website is designed "simply" to let the world know that you or your business exists – hoping to be found by new clients. You really need a simple Privacy Policy.
If you do have a privacy policy, review it to make sure it accurately describes what you're actually doing with information collected from visitors / users of your website. Did you "borrow" someone else's privacy policy that looked professional as a quick fix to get a finished-looking website? It happens! Why review it? Because there is a Federal Agency that oversee's "privacy" as it pertains to websites and they will expect you to have done what you said you'd do.
Our law office has some basic rules we try to impart to all of our clients. One of those rules is: "When possible, never annoy a government agency at any level: Federal, State, County, or City!"
Website Privacy Policies are enforced by the Federal Trade Commission
The Federal Trade Commission (FTC) is the primary agency responsible for the enforcement of website privacy commitments. Most states have additional laws that impose obligations as to how personal information shall be maintained and what your responsibilities are if ANY personal information is stolen or disseminated to others by accident, security breach, or by criminal hackers.
Website Privacy Policies should not "Over-Promise"
The FTC considers the claims and statements published in a Privacy Policy to be "real promises" – contractual promises – made by the website owner(s) to the users and visitors of that website. Therefore, when drafting your privacy policy, you must be sure that what you say you are doing is totally accurate. Better to not promise that your data is 256-bit encrypted and stored in a Nevada salt mine trying to gain favor of users. A single complaint to the FTC – a Federal Agency with deep pockets – can cause you problems you really do not want.
The FTC has the power and resources to figure out if you did what you agreed to do. Your website's Privacy Policy must accurately disclose the collection, storage, use, and dissemination polices applicable to any visitor or user information collected. Failure to keep any promises published in your Privacy Policy may amount to an unfair or deceptive trade practice which is legally actionable under the FTC Act.
It is wise to understand that most federal investigators, from the FTC or ANY federal agency, have their job performance reviews linked to successful prosecutions and/or accessing fines of violators. Consider the website owner who just "borrowed" a copy of some other website's privacy policy – maybe a good one like Amazon's as a quick fix to placate a credit card processor's requirement to have a policy – and now find themselves facing an FTC investigator holding a printed copy of that policy and having to live up to promises never even read. The FTC will hold the website owner accountable to all those phony promises. Ouch!
The FTC can get serious. Facebook, for example, is constantly under the watch of the FTC. The FTC is holding the same hammer over Facebook as they can any website owner: "Any fault in compliance with the Privacy Policy can result in a fine of $16,000 per violation per day." How many website owners can survive even 1 violation for 1 day? An FTC investigator would never come with just "one" violation. Don't go without a Privacy Policy. Don't copy. Don't borrow. Don't over-promise. Instead, keep it honest, simple and use some wisdom.
Many Clients' are Clueless that their Websites Collect's Information
"I don't collect visitor information." – Are you Sure? – You may not even be aware that you collect information from your visitors. What about cookies? Do you know? Are you sure? Many websites, or the software modules that are parts of many newer websites are more interactive and friendly by using cookies. Who knew! – Right?
Many of my law colleagues' have those sometimes-annoying, self-starting lawyer videos that start as soon as you visit the lawyer's site. But the visitor would be really annoyed if every time the visitor clicked on a new page or returned to the HOME page that the video would start all over again. That would be annoying to the max! To fix that, the video player plug-in leaves a cookie on the visitors computer, tablet or smart phone. You have written a "secret file" on you visitor's computer and you have to disclose that or face frivolous (but costly) lawsuits by people who file suits for a living.
Does your website have ADS running – such as Google Ad-sense?
Did your website start to get some web traffic and you thought: "Gee, with a 1,000+ visitors a day I'll bet I could get some extra income from putting Google ads on my site." Are you one of millions who has installed Google Ad-sense; are you an Amazon affiliate; or are there some other third party banner ads on your website? Do you think THEY are collecting data from your website visitors? You betcha!
Trust me, Google is not the site owner. You are. When you clicked "I accept the Terms and Conditions" for willingly agreeing to use Ad-sense, (yeah – that agreement that 90% of good people never read) you IN FACT agreed that you are responsible to your visitors and certain of your visitor's data would be harvested. So then… if Google or Amazon has ads running on your site with your blessing you KNOW (or would know by reading what you agreed to when starting these services) that these companies ARE collecting info from YOUR visitors.
If you are starting to get a headache at this point, it's understandable. It would take a lot of energy to find out what your advertisers are collecting from visitors to your site. Using a well-written Privacy Policy, you really don't need to know all the minutia of your advertisers. To protect yourself as the website owner you do need to publish somewhere on your site a Privacy Policy that adequately discloses, for example, that Google ads appear on your site and Google is likely collecting information. A well-drafted Privacy Policy will disclose these facts succinctly, and will protect you by transferring this knowledge and any potential objections, back to the free-will and acceptance of your website visitors. They can chose to not use your website if they disagree with an honest and enforceable agreement. Upshot? A good website Privacy Policy will protect you just as Google and Amazon make certain that they are protected.
e-Commerce Website & Sites with "Users" Require Double Protection
Do you own an e-commerce website? – or any form of website where one or more of your visitors become USERS by registering and/or logging in to your website to view material, access information or purchase a product? If so, do you collect names, addresses, e-mail addresses, credit card numbers, etc.? Any site that has "subscribers, contributors, users, or e-commerce buyers" absolutely should have both a Privacy Policy and a Terms-of-Use agreement. Consider having your website protected by some very cost-effective, customized website agreements prepared by Internet attorney Valerie Kramer.
---
Business Attorney Valerie Kramer
understands that investing some time in getting your business contracts in order, handling common legal transactions, or negotiating a lease should be cost-effective.
Valerie Kramer is also a Real Estate Attorney and helps Property Owners, Buyers & Sellers, Real Estate Brokers, Commercial Tenants and others involved in everyday real estate transactions and disputes. Valeries's clients get maximum value for every penny spent, without padded hours for unnecessary "additional services."
Call me personally – (619) 259-5030
– Let's talk through your issue or opportunity.
We Are Your San Diego Business Attorneys…
We are proud to serve San Diego and the San Diego County Area.